Our natural themes in Cross Stitch Design are inspired by the beauty of God's handiwork.
Please view our Catalog of more than 160 designs, perfect for the special moments in your life. Each chart is hand-drawn by Angie Kowalsky, using DMC Floss and mostly full stitches. Our mission is to give God the glory for His beautiful creation.
Please read God's Simple Plan of Salvation to understand God's love for you.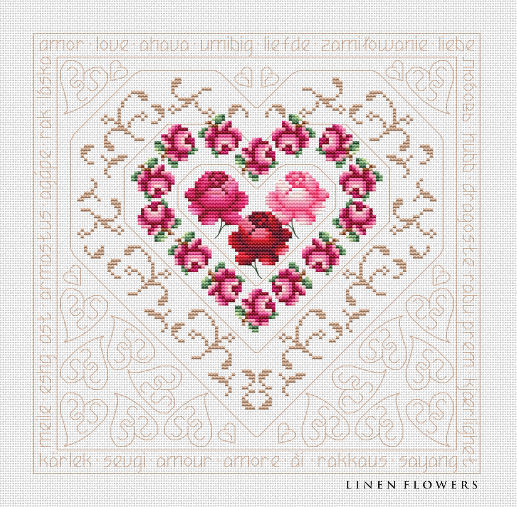 Love Speaks The Same Language- #10
Love speaks the same language across the world and accomplishes things no other emotion can. In this elegant Cross Stitch design full of roses, love is listed in English, Japanese, German, Spanish and Portuguese, Hebrew, Arabic, Icelandic, Thai, Czech and Slovak, Turkish, Swedish, Italian, Indonesian, Finnish, Norwegian, Romanian, Farsi, French, Dutch, Hindi, Polish, Russian, Lithuanian, Chinese, Filipino, Estonian, and Greek. Design size: 134 w x 131 h. Use a Fabric Calculator to determine finished size on your favorite fabric. Design uses DMC Floss.
(c) 2012 Angie Kowalsky/Linen Flowers Designs
*Chart Download For Personal License Only- Not For Resale Or Sharing.
See This Finish In The Gallery!
PDF Download Price: $7.00
About Your Order (Please Read)

*Personal License Only

Pattern And Chart Downloads Are For Personal License Only, And May Not Be Resold Or Shared.

Why Can't PDF Charts Be Resold?

*File Delivery

Charts by Linen Flowers and Patterns by Timeless Handwork are delivered by email as PDF Charts within 24 hours of purchase.

If you need delivery to a different email address, just let us know. It is important that your junk mail filter will allow delivery of the chart to you. And if your email address changes, please notify us, as there may be important revisions to the pattern or chart in the future to keep you informed of.

If you have any problems receiving or downloading your file, please contact us. We strongly recommend that you back up your file to a CD or flash drive in case of loss.





*All Charts Now Include A Watermark

Because of global copyright infringements to Needlework Designers (including charts by Linen Flowers), we must now add our customer's name as a watermark to each page of our PDF charts.

This should not present any problems in stitching the charts. The watermark is grey, but transparent, so that the symbols are still visible.

Thank you for understanding this step we must take in order to keep designing Needlework Charts and Patterns for you.

Read more about Copyright..