Listen To "Rainfall" by John Blasucci
Welcome to the Linen Flowers/Timeless Handwork online store.
Our exclusive catalog of Needlework Designs is always expanding...
Inside you will find over 200 hand-drawn Cross Stitch designs by Linen Flowers, and at least 50 Original Pattern Sets in Crochet, Knitting, Sewing, and Plastic Canvas by Timeless Handwork.
Downloadable patterns make it possible for you to receive your pattern within 24 hours. Even if you are across the globe, this quick access to your patterns is convenient for you, with no added shipping charges.
Our goal is to offer quality Needlework patterns and charts, with great customer service.
Faith in God is the strength behind our business, for, "Without Him, we can do nothing."

Hearts claim center stage in this striking Band Sampler, created with 12 shades of Red. Design size: 221 w x 307 h. Project uses DMC Floss. Use a Fabric Calculator to determine finished size on your favorite fabric.

(c) 2016 Angie Kowalsky/Linen Flowers Designs

*Chart Download For Personal License Only- Not For Resale Or Sharing.
Create a Ruffled Scarf in a day with warm, quick to sew Fleece. 2 Pattern Styles include the Long Ruffled Scarf to flounce over the shoulder (great for girls), and the Ruffled Necessity, which can be made in all Black to match leather outerwear.

(c) 2016 Angie Kowalsky/Timeless Handwork

*Chart Download For Personal License Only- Not For Resale Or Sharing.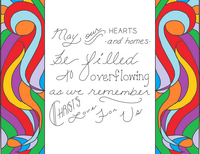 #26AF Overflowing

A vibrant greeting card suitable for holidays, or friendship: "May our hearts and homes be filled to overflowing as we remember Christ's love for us." (2) 2014 Angie Forshier.


Please join Linen Flowers along with other Needlework Designers at The Counted Wishes Festival, March 15-21, 2016, as we present "What's New And Different In Design!"
It's a great time to plan a stitching retreat with your friends and decide on your favorites! Look for New Designs, Special Prizes, Show Specials, and More!
The Festival is held online at http://countedwishes.com.