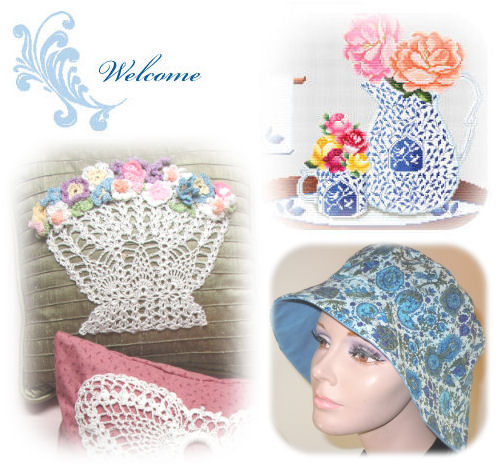 Our exclusive catalog of Needlework Designs is always expanding.
We feature over 200 hand-drawn Cross Stitch designs, and at least 50 Original Pattern Sets in Crochet, Knitting, Sewing, and Plastic Canvas.
Downloadable patterns make it possible for you to receive your pattern within 24 hours. Even if you are across the globe, this quick access to your patterns is so convenient for you, with no added shipping charges.
Our goal is to offer quality Needlework patterns and charts, with great customer service.
Faith in God is the strength behind our business, for, "Without Him, we can do nothing."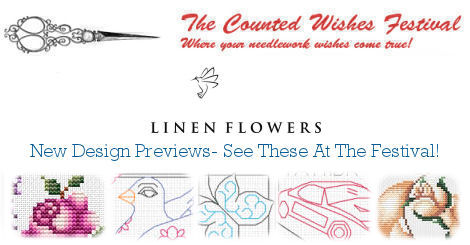 Please join Linen Flowers along with other Needlework Designers at The Counted Wishes Festival, March 15-21, 2015, as we present "What's New And Different In Design!"
It's a great time to plan a stitching retreat with your friends and decide on your favorites! Look for New Designs, Special Prizes, Show Specials, and More!
Six new designs will feature a variety of Blackwork designs, plus Roses, a Scriptural Sampler, and a Memorial for loved ones with 15 different color combinations.
Our Show Special will be: Purchase 3 PDF Charts, Receive 1 PDF Chart Of Your Choice Free!
We will be donating a Grand Prize of 1 PDF Chart Of Your Choice to the winner.
A Complimentary Doorprize is always included on the Goodies Page at the Festival.
The Festival is held online at http://countedwishes.com.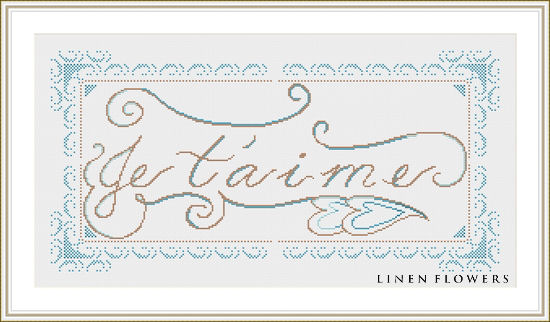 This Valentine's Day, stitch "I Love You" in French with only 4 shades of thread, suitable for a throw pillow or frame in a shabby chic decor. Design size: 276 w x 136 h. Use a Fabric Calculator to determine finished size on your favorite fabric.
(c) 2015 Angie Kowalsky/Linen Flowers Designs
*Chart Download For Personal License Only- Not For Resale Or Sharing.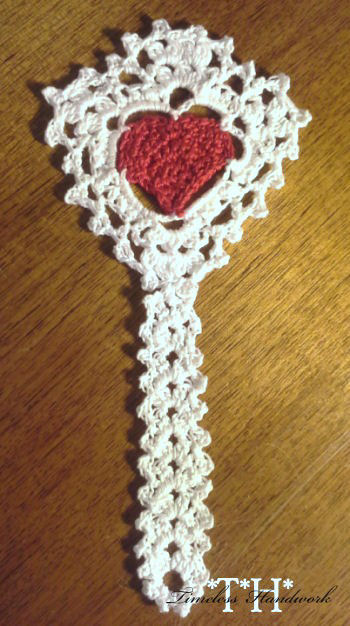 #59TH Friendship Heart Bookmark
Crochet a quick gift from the heart for a friend who likes to read. Optional: Crochet the heart in the favorite color of the recipient. Project uses size 10 Crochet Thread.
(c) 2015 Angie Kowalsky/Timeless Handwork
*Chart Download For Personal License Only- Not For Resale Or Sharing.



#26AF Overflowing


A vibrant greeting card suitable for holidays, or friendship: "May our hearts and homes be filled to overflowing as we remember Christ's love for us." (2) 2014 Angie Forshier.