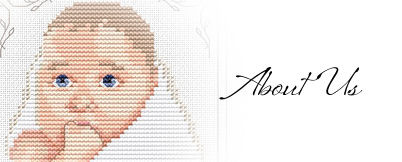 Timeless Handwork began in 1995 with Crochet Designs. Soon Sewing, Knitting, and Plastic Canvas Patterns were added to our Catalog.
Linen Flowers was formed in 2003, to offer hand-drawn Cross Stitch Designs, and grew to feature over 200 charts by 2014.
Our patterns and charts were mostly offered by online stores and distributors until 2008, when both businesses became retail only.
In 2013 the two businesses were combined, to offer a one-stop shopping experience for customers.
Our goal is to offer our customers quality Needlework patterns and charts, with great customer service.

I thank God for His help, for "Without Him, I can do nothing." (John 15:5).
I'm very blessed to have two grown children and one grandchild in my life.
My hobbies are growing flowers, drawing, learning to play the piano, and Needlework.
I love to start my day with coffee and God's Word, and hope to grow each day in my relationship with Him.
Thank you for your visit.
Angie

...My work is imperfect... as His work is perfect. He is the Master Designer- painting the beautiful sunsets, perfuming and designing the gorgeous roses, and creating the child carried by his mother.
God's perfect gift to redeem man was to send His Son, Jesus Christ, holy and without sin, to die on a cross to bear the sin nature we were born with.
God's Word, The Bible, says, "For God so loved the world, that He gave His only begotten Son, that whosoever believes in Him, should not perish, but have eternal life." John 3:16.
When we believe, through faith, that God's Son Jesus died for our sins on the cross, God says that we are adopted into His family. We are "saved" from the sin nature that we inherit from Adam and Eve, which carries a penalty of sin, and the curse of death. Without a Savior, that fate still awaits us.
Jesus perfectly satisfied the sin requirement of a Holy God, and no works of ours can add to that, or make us clean enough to appear in God's holy presence.
Knowing Jesus as your Savior means that you have peace with God, finally. The wonderful promises that you will be with Him forever are yours- for eternity.
You won't have to fear death, nor the penalty of being judged for your sins. At Judgment Day (which we will all face), you will have a Redeemer (Jesus), who says, "I paid for (your name here) with My Blood."
In this life, at the moment of salvation, you receive the Holy Spirit (God in you), who testifies that Jesus is true- and real. He becomes the friend who loves you like no other. He shows you that He is the meaning of life, and that we were created to have fellowship with Him, as Adam was in the Garden of Eden, before sin blackened the picture.
Nothing else in this world will fit into that hole in your heart, which God made for Himself. Nothing else will satisfy your heart but a meaningful relationship with Jesus Christ.
We do not know if we have tomorrow. If you die suddenly tonight, will you be in Hell because you rejected Jesus as your Savior? Or will you be in Heaven because He paid for you with His blood?
The Bible speaks of Hell as a tormented place of suffering for those who refused Jesus. In Luke 16:19-31, the rich man who died without God asked Him to "send Lazarus, that he may dip the tip of his finger in water and cool my tongue, for I am tormented in this flame."
In beautiful contrast, Heaven is a restful place of no more sorrow or suffering. In Heaven, Jesus receives all of the glory as King of Kings and Lord of Lords.
Revelation 21:3 says, "And I heard a loud voice from Heaven, saying, "Behold, the tabernacle of God is with men, and He will dwell with them, and they shall be His people. God Himself will be with them and be their God."
You don't want to miss Heaven! Nothing else on this earth is as important as taking care of your salvation, so that you can sleep peacefully tonight, and know that your sins are paid for.
Please read God's Simple Plan of Salvation to understand more about God's love for you.