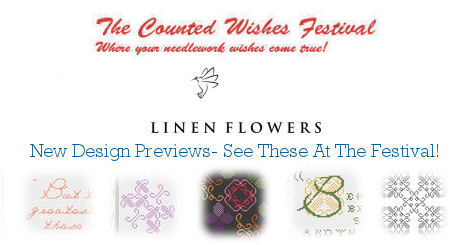 The Fall Counted Wishes Festival is now open. The Linen Flowers Booth may be found here.
Even though this range of Sampler designs are much larger than usual, they were a fun group to create. Look for more of these designs in the future.
The online show dates are from Sept. 15-21.
Our Show Special will be Purchase 3 PDF Charts, Receive 1 PDF Chart Of Your Choice Free.
The Complimentary Doorprize by Linen Flowers can be found on this page at the Festival.
Hope to see you there!
God bless you,
Angie
Linen Flowers/Timeless Handwork
Creative Needlework Design Since 1995
http://linenflowers.com