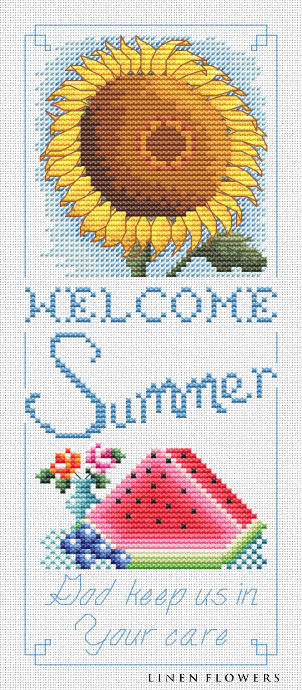 Such a beautiful variety of flowers have come and gone, this summer.
A favorite among many, the Sunflower takes center stage with "Welcome Summer", the final design in the series of Winter, Spring, Summer, and Fall Doorbanners.
Though slightly more challenging to stitch than the others because of its fractional petals, it sets a carefree tone for Summer, along with a small Watermelon and Blueberry scene.
God bless you,
Angie
Linen Flowers/Timeless Handwork
Creative Needlework Design Since 1995
http://linenflowers.com
GREAT RECIPES
Italian Pasta Salad
Warm 1 TBSP. honey in a measuring cup for 10 seconds. Add white vinegar to make 1/4 c.
Add vegetable (or olive) oil to make 1/2 cup.
Add:
1 tsp. dried basil
2 small or 1 large cloves of garlic, chopped fine
1 shake of red pepper
2 shakes of black pepper
1/2 tsp. salt
1/2 cup Parmesan cheese
Whisk well. Let this sit while preparing pasta and vegetables.
Cook 4 cups macaroni in boiling water. Drain and cool (very important so that cheese does not melt in salad). Set aside.
Dice:
16 oz. mozzarella cheese
2 large tomatoes, peeled
2 medium zucchini, peeled
Mix pasta, vegetables, cheese, and dressing well. Refrigerate. May add more salt to taste.