Dear Needlework Friends,
Here in Iowa, It seems fitting that the beautiful Lilacs are in bloom just for Mother's Day.
As this special day approaches to honor women of all ages, we would like to stop work on other designs, and release this special Cross Stitch Tribute, "A Mother Sampler And Bookmark." (Some of you quick stitchers may be able to finish the bookmark before Mother's Day).
The text on both projects says, "A Mother Is The Beauty Of God's Hand At Work."
I'm enclosing a recipe that we enjoy at our house. It's called Pizza Bread, and it is easy to stir up and prepare.
To all of the women who read this, please have a very Happy Mother's Day. Even if you are not a Mother, most likely, you have influenced someone in your life who appreciates it.
God bless you,
Angie
Linen Flowers/Timeless Handwork
Creative Needlework Design Since 1995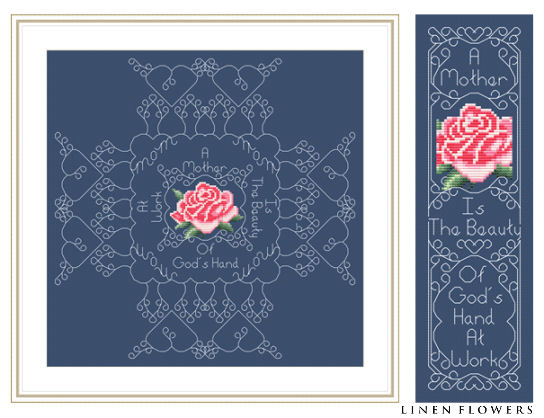 #237 A Mother Sampler And Bookmark
A Mother… is impossible to give enough praise for the love she practices. Honor Mom (or Mum, Mama, or Maw Maw) by stitching this Rose Sampler and Bookmark design which says, "A Mother Is The Beauty Of God's Hand At Work." The Sampler would be especially nice finished as a pillow. Sampler Design size: 175 w x 175 h. Bookmark Design Size: 35 w x 138 h. Projects use DMC Floss. Use a Fabric Calculator to determine finished size on your favorite fabric. Navy fabric is recommended for this design; however, by changing the white backstitching to another color, white fabric may be used.
(c) 2016 Angie Kowalsky/Linen Flowers Designs
*Chart Download For Personal License Only- Not For Resale Or Sharing.
GREAT RECIPES- PIZZA BREAD
1 pkg. yeast
1 TBSP. honey
2 cups water (one hot, one warm)
1 tsp. salt
4 cups flour
1 stick butter
Pepperoni
1 small package shredded mozzarella cheese
Garlic Salt
Garlic Powder
Parmesan Cheese
Stir honey into 1 cup hot water, to dissolve. Add the remaining cup of warm water, to cool slightly. Add yeast and let sit about 5 minutes. Add salt, and flour, stirring well. Stir in the cheese, a heavy sprinkle of Garlic Powder, and a handful of Pepperoni, chopped. Melt the stick of butter in a 9 x 14″ pan. (Do not burn). Spread dough in buttered pan, covering top of dough with butter as you press. Sprinkle with Garlic Salt and Parmesan Cheese. Let dough rise 1 hour in warm oven (turned off). Then turn to 350 degrees and cook about 21 m. or until lightly browned on top (too long will make the bread tough). Take out, and cut into squares. The squares freeze well in a large ziploc bag.