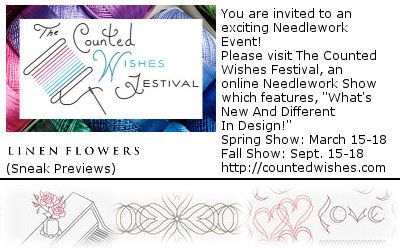 Dear Stitching Friends,
One of the things I enjoy most in life is learning to play the piano… so it is only natural that the piano would make it into one of the newest Blackwork Designs, now showing at The Counted Wishes Festival.
2 other Blackwork Designs are shown there, which feature hearts, ribbons, and "love", and another, especially designed for men.
You can see these new designs at The Counted Wishes Festival September 15-18.
Our Show Special is Buy 4 PDF Charts, Receive 1 PDF Chart Of Your Choice Free.
You can also find our Complimentary Doorprize, called, "Here's My Heart," on the Goodies Page.
Deena Hosmer, Counted Wishes Festival Owner, has put together a very professional and exciting show for visitors. Besides browsing the designs, you will find Show Specials, Complimentary designs to take home, and many games and prizes.
The Festival offers a unique opportunity for Independent Designers to show stitchers what's "New And Different" in design. What I love about being part of this Festival is that, though small, there is nothing else like it in our business!
Retail Designers who participate in the Festival show that quality of design does exist in retail, and it's in this venue that you will find designs which are not seen in every Needlework store. I am constantly amazed at the beautiful designs and talent represented in each Counted Wishes Festival.
Please come by the Festival, and tell your stitching friends about it.
Thank you,
Angie
Linen Flowers/Timeless Handwork
Creative Needlework Design Since 1995
http://linenflowers.com