Dear Needlework Friends,
If you are in the deep freeze where you are, looking at New Designs is a welcome distraction. The cold nights make especially good stitching time while children play.
This month, we feature an eye-catching Blackwork and Hearts Cross Design to Cross Stitch, and a lovely winter Pineapple Snowflake to Crochet. It can be starched and hung in a window, or laid flat on a table.
Included in this Newsletter is a Broccoli and Rice Casserole which met with a 2 year old's approval!
God bless you,
Angie
P.S. In my signature, you may notice the link to Counted Wishes. I am the new (original) owner of Counted Wishes, and it is now a website to promote New Releases by Counted Thread Designers, every day of the year. Come visit!
Linen Flowers/Timeless Handwork
Creative Needlework Design Since 1996
http://linenflowers.com
Counted Wishes
We Showcase, "What's New And Different In Design"
http://countedwishes.com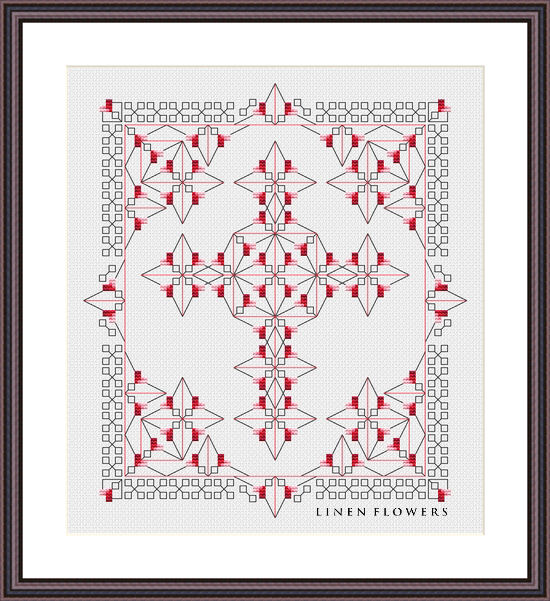 #244 Rejoice!
Blackwork and Hearts surround a Christian Cross, which is the symbol of Jesus Christ to God's people. When we lift up our eyes to Calvary, we can do nothing but, "Rejoice!" for He gave the ultimate statement on the cross, "It is finished." Design size: 120 w x 136 h. Project uses DMC Floss. Use a Fabric Calculator to determine finished size on your favorite fabric.
(c) 2016 Angie Kowalsky/Linen Flowers Designs
*Chart Download For Personal License Only- Not For Resale Or Sharing.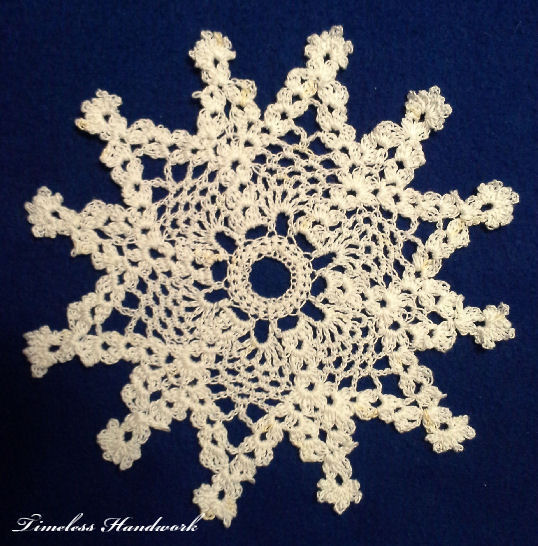 #21TH Pineapple Snowflake
Starched and hung in a window, or laid flat on a table, this Pineapple Snowflake will be a lovely winter accent in your home, or as a gift. It measures 9″ at the widest point. The project uses Size 10 Crochet Thread and a Steel Hook.
(c) 2017 Angie Kowalsky/Timeless Handwork
*Chart Download For Personal License Only- Not For Resale Or Sharing.
GREAT RECIPES- Broccoli Cheese Casserole
(Good potluck dish)
In a large stockpot, place 1 (16 oz.) bag of frozen broccoli with 2 cups of water to cover. Add 1/8 cup minced onion, 1 tsp. chicken bouillon, and 1 cup of frozen corn. Cover. Cook on High until boiling, then turn to Med. heat, breaking up broccoli with a fork. Let cook until broccoli is just tender. Do not drain.
Add 1 can cream of mushroom soup, 1/2 cup mayonnaise, 1/2 tsp. salt, 1/4 tsp. pepper, 1 cup grated cheddar cheese (grate 1 more cup and reserve it for top of casserole), 2 cups of Minute Rice, and 1 cup of cooked, chopped ham.
Add reserved cheese to the top. Cover. Bake at 350 degrees for 30 m.