Dear Needlework Friends,
As Christmas draws near, I would like to wish you a very blessed one.
In this Newsletter, you will see a Christmas "Wheel Sampler" Design, "Emmanuel," featuring a little Christmas Tree Sampler.
The GREAT RECIPE this Newsletter is for Dog Treats which are the best that my dog has tried. They are easy to make, freeze, and even use to crush medicine inside.
Thank you, friends, for your support this past year. May God bless each one of you, and your families, and friends.
Angie
Linen Flowers/Timeless Handwork
Creative Needlework Design Since 1995
http://linenflowers.com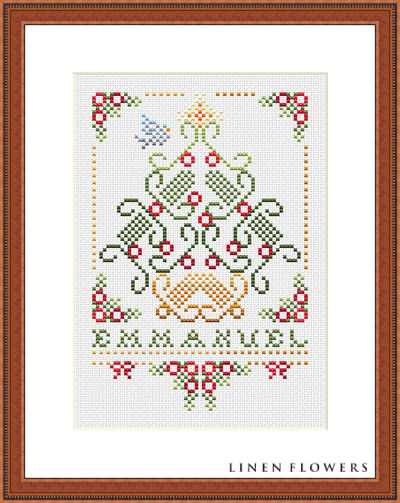 Emmanuel #243
The peace of the Christmas season comes from its focus on Emmanuel, meaning, "God With Us." This little Christmas design is from the "Wheel Sampler Series." Design size: 61 w x 80 h. Project uses DMC Floss. Use a Fabric Calculator to determine finished size on your favorite fabric.
(c) 2016 Angie Kowalsky/Linen Flowers Designs
*Chart Download For Personal License Only- Not For Resale Or Sharing.
Best Dog Treats
1 cup canned pumpkin
(2) 4 oz. pkgs. baby (2nd foods) sweet potatoes
(2) 2.5 oz baby (2nd foods) chicken and chicken gravy
1 egg
1/4 cup plain yogurt
2 cups quick oats
1/2 cup minute rice
1/4 cup unsweetened, creamy peanut butter
Press into a greased 9 x 13″ pan. Baby at 350 degrees for 25 m. Cut while warm into 1″ squares. Cool completely. Refrigerate about 5 days worth of treats, and freeze the rest in a large ziploc bag.