Dear Needlework Friends,
Here in Iowa, the middle of August seems to show off all of the beautiful roses and flowers before the coming of Fall. God surely deserves the praise and glory for these lovely blooms He has created.
Your Cross Stitch needle will find many Roses and Butterflies to stitch in this design set of 4. Pastel colors draw the eye into a vintage-inspired Sampler, Heart, Bellpull, and Bookmark pattern set which would be lovely for gifts.
Knitters will also enjoy Roses, creating either The Large Centerpiece Rose, a vase of Roses, or a Rosebud Pin to wear on a scarf or shawl.
Our GREAT RECIPE for this Newsletter is a different twist on a Pasta Salad. Try it- the flavors blend together well.
Thank you for your support of Linen Flowers/Timeless Handwork.
God bless you,
Angie
Linen Flowers/Timeless Handwork
Creative Needlework Design Since 1995
http://linenflowers.com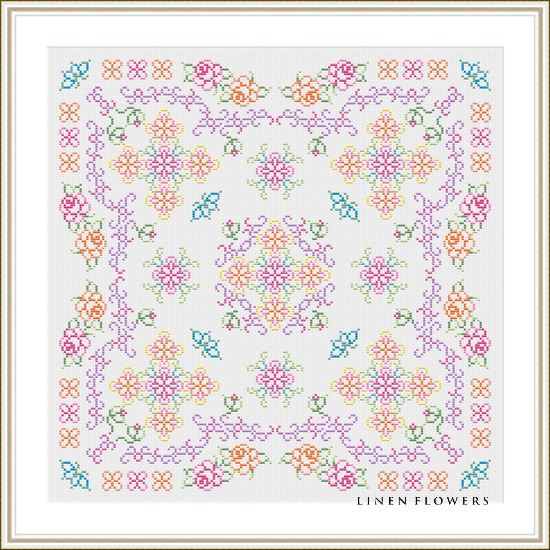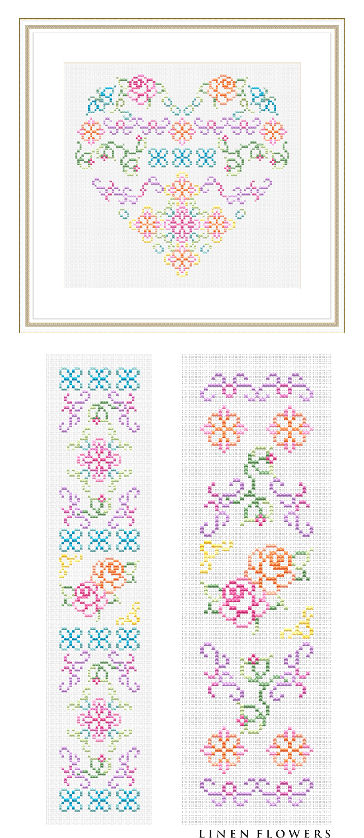 #239 Days Gone By
Is it modern or vintage? The eye cannot tell as it is drawn into a pastel world of butterflies and roses which will delight the stitcher. A variety of 4 designs are included: A Sampler, Heart, Bellpull, and Bookmark. Design size: Sampler: 191 w x 191 h, Heart: 99 w x 94 h, Bellpull: 31 w x 171 h, Bookmark: 31 w x 119 h. Projects use DMC Floss. Use a Fabric Calculator to determine finished size on your favorite fabric.
(c) 2016 Angie Kowalsky/Linen Flowers Designs
*Chart Download For Personal License Only- Not For Resale Or Sharing.
Knitted Rose Gifts- #60TH
It's possible to keep roses blooming indoors all year, with these 3 lovely knitted designs to choose from. The Centerpiece Rose can be worked in one color, or many, and is a main focal point as it sits on bed of large rose leaves. Likewise, The Vase Rose can be worked in different shades or one color. Knit a large bouquet of roses by working several of the Vase Roses, and joining the vase forms. Finally, a flat Rosebud Pin worked in your favorite colors stands out on a coat or shawl. Projects are easy to knit with worsted weight yarns.
(c) 2016 Angie Kowalsky/Timeless Handwork
*Chart Download For Personal License Only- Not For Resale Or Sharing.
GREAT RECIPES- Peanut Butter Pasta
Cook 3 cups of pasta with 2 cups of broccoli, until broccoli is crisp-tender.
Microwave 35 seconds:
1/4 cup orange juice
2 TBSP. butter
Large TBSP. peanut butter
Stir well. Add 3/4 tsp. garlic salt, 1/4 tsp. salt, and 1/4 tsp. pepper.
Add 1/4 cup Parmesan cheese. Mix into pasta well.
Mix in 1/2 cup raisins. (Don't omit these as they give the pasta salad a little sweetness).
Cover and refrigerate.