Dear Needlework Friends,
Happy 2016! May this be a blessed year for you and your families.
As Valentine's Day approaches, our new Cross Stitch Band Sampler will keep your focus on hearts. This design was fun to create with 12 shades of Red, and is part of our "Wheel Sampler Series" (Samplers created using spoke-like parts of a wheel).
The inner heart could also be stitched alone, for a pillow front, using your favorite Hand-dyed thread colors.
As the bitter winds rage outside, our Quick Ruffled Scarves design will be quick to stitch on the machine some cold, wintry day. The warm, fleece scarves will make great gifts for girls and women.
The Great Recipe we share today are the ingredients to make an Artichoke Chicken topping for your favorite pizza crust. (Inspired by my Mom's new favorite pizza).
Best wishes, and may God bless you,
Angie
Linen Flowers/Timeless Handwork
Creative Needlework Design Since 1995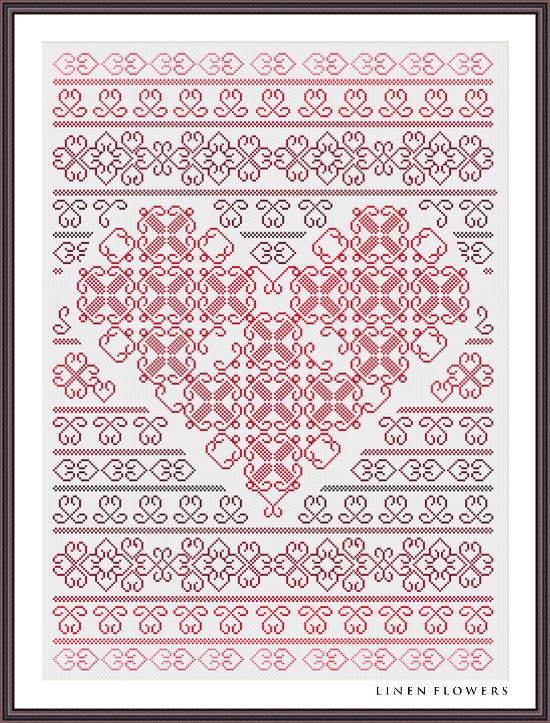 #232 Many Hearts
Hearts claim center stage in this striking Band Sampler, created with 12 shades of Red. Design size: 221 w x 307 h. Project uses DMC Floss. Use a Fabric Calculator to determine finished size on your favorite fabric.
(c) 2016 Angie Kowalsky/Linen Flowers Designs
*Chart Download For Personal License Only- Not For Resale Or Sharing.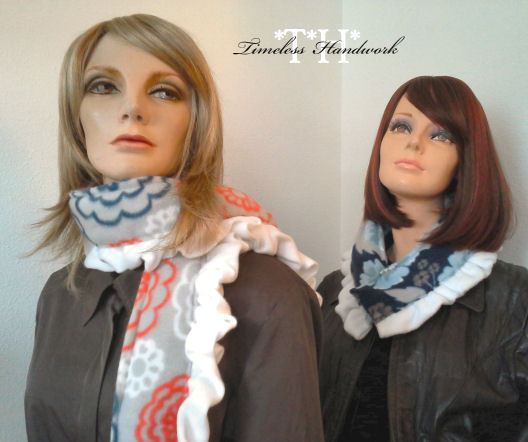 #56TH Quick Ruffled Scarves
Create a Ruffled Scarf in a day with warm, quick to sew Fleece. 2 Pattern Styles include the Long Ruffled Scarf to flounce over the shoulder (great for girls), and the Ruffled Necessity, which can be made in all Black to match leather outerwear.
(c) 2016 Angie Kowalsky/Timeless Handwork
*Chart Download For Personal License Only- Not For Resale Or Sharing.
GREAT RECIPES- Artichoke Chicken Pizza Topping
On your favorite pizza crust, spread this dressing mixture:
1 oz. pkg. Hidden Valley Ranch Mix
1/4 cup Parmesan cheese
1/4 cup plain yogurt
1/8 cup milk
Sprinkle over the dressing mixture 2 cups shredded Mozzarella cheese.
Sprinkle on top of the cheese this mixture:
1 large clove, or 2 small cloves, diced garlic, sauteed in 1 tsp. oil until lightly browned
1 14 oz. can artichoke hearts, drained. (Halve these and discard the rubbery leaf tops- chop the remaining hearts fine)
1-2 cups chopped, cooked chicken breast
2 cups washed, chopped spinach leaves, stems removed
Bake at 400 degrees until the cheese is lightly browned.