Dear Needlework Friends,
As Thanksgiving draws near in the US, it seemed fitting to design a sampler which gives thanks to God, while featuring the beautiful shades of Fall. This Quaker type sampler is similar to the recent Christmas and floral ones which were released at The Counted Wishes Festival. (Thanks to all who attended!)
And just in time for holiday stitching, a flattering knitted hat pattern makes a great gift for females of any age.
As another year of designing and stitching comes to an end, I would like to thank all of our customers for your business, and wish you, and your loved ones, a very blessed Holiday Season and New Year.
Angie
Linen Flowers/Timeless Handwork
Creative Needlework Design Since 1995
http:linenflowers.com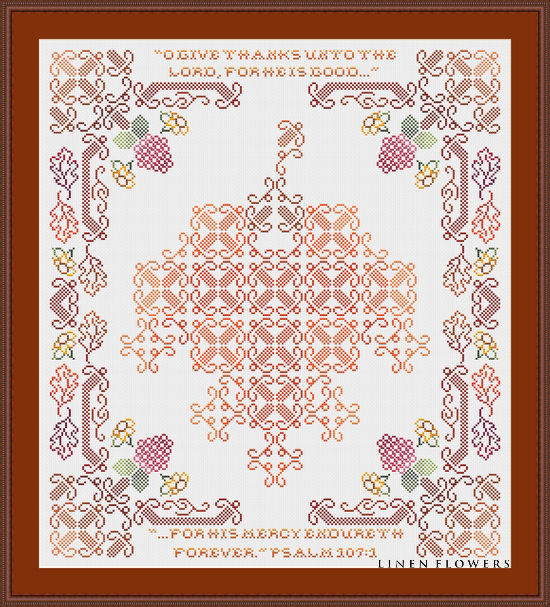 The rich shades of Autumn color leaves, flowers, and berries in this Thanksgiving Sampler which features the beautiful Psalm 107:1, "O Give thanks to the Lord, for He is good, for His mercy endureth forever." Design size: 237 w x 267 h. Project uses DMC Floss. Use a Fabric Calculator to determine finished size on your favorite fabric.
(c) 2015 Angie Kowalsky/Linen Flowers Designs
*Chart Download For Personal License Only- Not For Resale Or Sharing.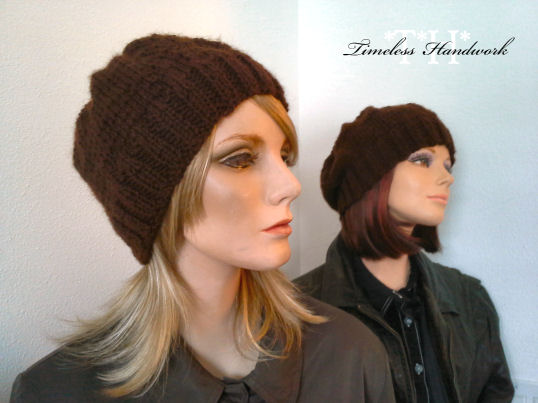 Not all hats flatter… but females can choose between these 2 easy to knit styles:  a loose fitting hat which every female can wear, and a slight slouch which offers more of a statement. Both hat patterns are given in every size a female wears: Preemie, Newborn, 3-6. mo., 6-12 mo, 2 years, Child's Size, and Adult Size. Projects use worsted weight wool/acrylic blend yarns.
(c) 2015 Angie Kowalsky/Timeless Handwork
*Pattern Download For Personal License Only- Not For Resale Or Sharing.