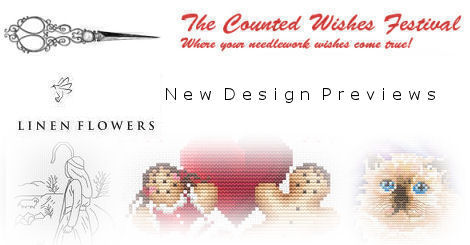 Join us at The Counted Wishes Festival– an online, retail Needlework Festival!
The Festival is held at September 15-21, 2014.
It's a one-of-a-kind show in which you are the first to see the New Releases many of the participating Designers have prepared, just for the Festival.
Other exciting features include Show Specials, Grand Prizes, Complimentary Designs, and more. It's a fun time to shop the Festival with friends and decide on your favorites.
During the Festival, we offer:
• A Show Special: Buy 3 PDF Charts, Get 1 PDF Chart Free
• A Grand Prize: 1 PDF Chart Of The Stitcher's Choice
• A Complimentary Doorprize Design For All (Found at the Counted Wishes Festival).
It's coming soon… we hope to see you there!