Dear Needleworkers,
I hope this newsletter finds you well!
The bulbs are beautiful outside, and the spring weather is making it hard to stay at my desk… However, I do have a new release to share with you- "Trust In The Lord", #213 by Linen Flowers.
Though this sampler is quite large, it is only worked in 3 colors, which makes it easy to change the soft green theme to any color which suits your home. I hope you enjoy it!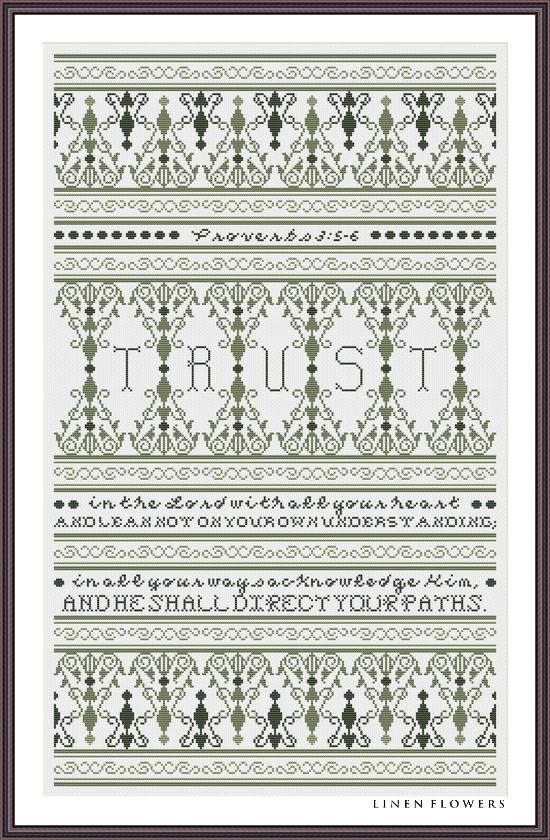 Proverbs 3:5-6 gives sound advice for all ages: "Trust in the Lord with all your heart, and lean not on your own understanding. In all your ways acknowledge Him, and He shall direct your paths." Design size: 215 w x 356 h. Project uses DMC Floss. Use a Fabric Calculator to determine finished size on your favorite fabric.
(c) 2013 Angie Kowalsky/Linen Flowers Designs
*Chart Download For Personal License Only- Not For Resale Or Sharing.
PDF Download Price: $7.00

Moving onto sewing, I found myself tackling an extra large project this month- turning a beautiful, well-fitting wedding dress into a prom dress. Here is the DIY Tutorial of how we shortened the train and layers to make a dress worthy of prom…

More off-topic, you are all invited to check out my venture into Greeting Cards and Art Prints at Springtime And Harvest Designs.
Have you tried any good recipes, lately? Here is an Appetizer recipe that I tested for a graduation reception. Hope you like it!
Spicy Pastrami Rolls (Substitute baked ham if you prefer)
2 pkg. (8 oz. each) refrigerated crescent rolls
1/2 lb. thinly sliced deli pastrami, torn into small strips
1/2 cup soft cream cheese with chives and onions
1/3 cup Dijon-style mustard, in bowl
Preheat oven to 375 degrees. Separate rolls into triangles, then cut each in half.
Add a half teaspoon of cream cheese onto the roll dough, and spread out with your fingers.
Dip your fingers into the mustard and spread across the roll dough.
Lay the small pastrami slice across the dough and roll up.
Place the dough rolls seam side down on an ungreased baking sheet.
Bake 12-15 minutes until golden brown.
Refrigerate if not using right away. These are good warm and cold.
Until next time, may God bless you and your families.
Angie
Linen Flowers/Timeless Handwork
Creative Needlework Design Since 1993
http://linenflowers.com/